You've met the woman of your dreams, and now you want to know how to keep her happy.
One piece of advice:
Happiness comes from within.
You are not meant to make her happy; that's her job!
You are aiming to make your girlfriend happy to be in a relationship with you.
Here is a list of how to do just that.
1# Don't Put Her on a Pedestal
It will sound a bit counterintuitive, but you might want to give it a thought.
Putting her on a pedestal and trying to satisfy all her needs while neglecting your own will certainly backfire in the long run. If you want to know how to keep your girlfriend happy, the answer is simple — keep yourself happy first.
Why?
Well, putting her first in every situation means that you have stopped prioritizing yourself. We are not talking about being nice and loving to your gal and keeping her safe and content. We are talking about valuing her more than you value yourself.
And this applies to just everybody, not only to the woman you love. If you are not happy and satisfied with who you are, you will never make your girlfriend truly happy.
2# Be Your Girlfriend's Biggest Fan
Being in a committed relationship shouldn't stop the partners from having their own life. A relationship is no reason to ditch your dreams and aspirations. On the contrary, as partners, you need to be each other's biggest fans. It will strengthen and deepen your bond.
Career-wise, women in long-term relationships/marriages tend to give up on a lot more than men to raise a family and create a home. However, things have been changing a lot lately.
Women are famous multitaskers, and your girlfriend is probably no exception. Make sure that whatever she is trying to accomplish, you are always there to cheer her on.
Become an active listener and show genuine interest in her when she's talking. Regardless of how farfetched or impossible her idea sounds to you, you'd want her to know that you believe in her, and you'd be there along the way.
Putting conscious effort is one great way to make up to your girlfriend if you haven't exactly been the most supportive boyfriend.
3# Show Your Romantic Side
Biologically speaking, women look for strong males who can pass good genes onto the offspring (regardless of whether they have children together).
But, this, under no circumstances, is a reason for you to be a total caveman! Your girlfriend probably appreciates your strong masculine side, but there is no harm in being romantic and vulnerable from time to time.
And while you don't want her to be the center of your world, you still want her to feel special and appreciated:
Take her out for a nice dinner
Treat her to some breakfast in bed
Come home with a bunch of flowers on a random day
Buy her thoughtful gifts just because
Pamper your girlfriend but don't overdo it.
Keeping things versatile and fun will be enough for her to stay interested and invested. Happy girlfriend, happy life, right?
4# Prioritize Sex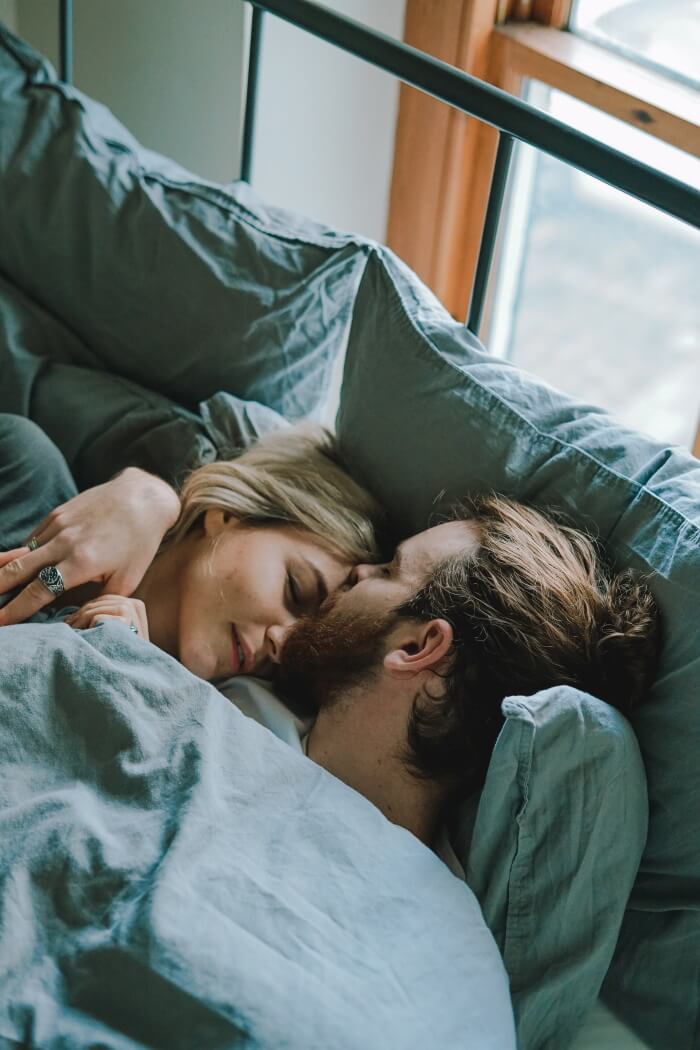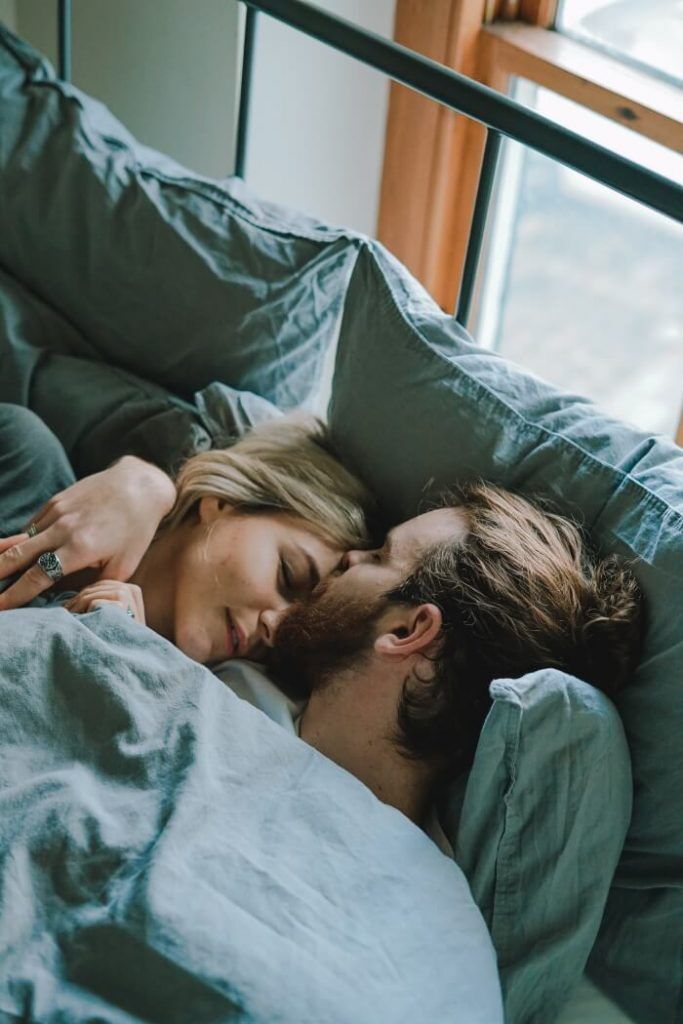 Not trying to tell you how to feel up your girlfriend, but sex makes women glow! Sex is a must-have in a relationship that you cannot ignore!
Women are sexual beings and enjoy being sexually intimate as much as men do. And what's a better place to show how attractive you find your girlfriend than in the bedroom?
Take your time to learn what she wants. Every woman is different, but they all want to feel sexy and desired. Don't be afraid to show her how much you want her. It will boost her confidence and make her glow!
Be adventurous, and don't be scared to try new things; for example, get her a fun sex toy like the one from the rose toy official website.
So, guys, if you are still wondering how to make it up to your girlfriend, good ol' sex can be the way!
5# Don't Be Needy
It is a rookie mistake that will get you nowhere with a girl. Maybe, in the beginning, she will find your excessive texting and calling cute, but once your relationship is out of the honeymoon stage, it will make her run for the hills!
It's fine to show your devotion, but she will equally appreciate your independence and self-confidence. A little bit of mystery (but not to manipulate her) will keep her on her toes.
6# Write Her Good Morning and Goodnight, Messages
Another way to make your girlfriend happy, is to use simple "Good morning, beautiful" sweet messages. It has the power to set the tone for your girlfriend's entire day, so why not put a smile on her face?
It doesn't have to be a love letter, just a few words that will let her know she's always there with you, no matter where you are or what you are doing.
The same applies to "Goodnight" messages. Picture her getting ready to call it a day and go to bed, and she reads a sweet message from the person she loves the most.
If she is your first thought in the morning and last before you go to sleep at night, you may as well actually tell her!
There is nothing better than knowing you matter and you are missed.
7# Spend Quality Time with Her
To make your girlfriend happy, spend quality time together whenever you can. Put down the phone, lay off the tablet, and focus on her. Just be there in the moment and give her your undivided attention.
Ask her about her day or plans for the upcoming week, tell her about the new series you started watching, plan a weekend away together, or talk about anything that comes to mind. In other words, make your girlfriend feel cherished and prioritized. It will bring you extra points if her love language is quality time.
8# Make Her Laugh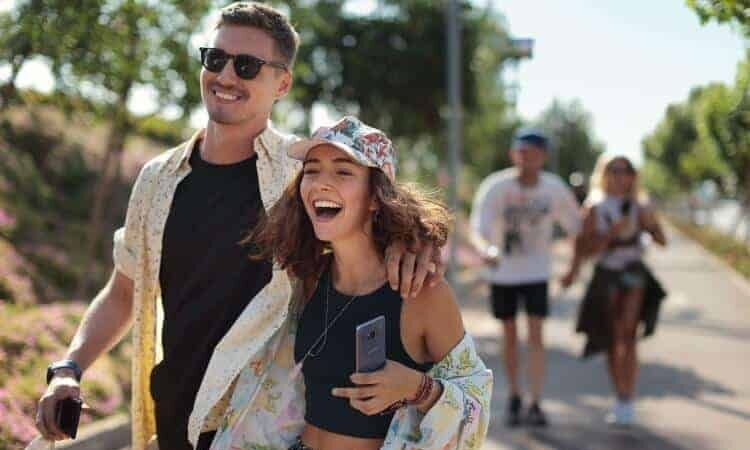 Humor plays an important role in any serious relationship. You don't have to be a stand-up comedian to see your girl laugh. All you need is a few funny lines that will make her chuckle. You can also try slipping a silly meme in her DMs or a hilarious video you just saw on YT.
Plus, every couple has inside jokes that always make you laugh at the top of your lungs, no matter how many times you repeat them.
Teasing and light tickling can also have a smaller effect, as long as your girlfriend doesn't hate tickling.
9# Be Respectful of Her
Not that this needs further explanation, but it's definitely worth having it on this list!
A woman who enjoys respect from her partner is a happy woman with a healthy dose of confidence and self-esteem. Not saying that the way you treat her defines your girl, but it adds to how she's feeling about you and your relationship.
Just put yourself in her shoes and treat her the way you'd like to be treated. This applies to respecting her time, space, and boundaries. Let her grow into the best version she can be without making her feel smothered.
10# Help Around the House
Helping around the house is an extension of respect.
Particularly if you live together or share any space like an office, being a helping hand will take a lot of stress off your girlfriend. It will also free up time on her already busy calendar you can later spend together.
Its's time to abandon the old way of thinking that the woman is the one who should take care of house chores. Do the dishes, fold a load of laundry, or surprise her with a sparkling clean floor. Even the smallest gestures count, especially if they are more of a habit than random "acts of kindness."
Plus, many women claim that there is nothing sexier than a man with a vacuum liner and duster in his hand. If anything, she'll love the initiative and the fact you appreciate her and everything she does for you and your space.
11# Cook for Your Girlfriend
If you feel like you'd make more mess than help, you can show your appreciation differently. For instance, you can cook her favorite meal (or anything you are good at). This kind of gesture will make your girlfriend happy.
Even if it's something simple like an omelet, she will be delighted with the time and effort you put into making her nice food and spearing her from additional work in the kitchen than cooking an elaborate 4-course meal.
For all of you guys out there who are not the greatest of cooks but still want to surprise your girlfriends with a plate of delicious food, you can do it by ordering some take-out from her favorite restaurant.
12# Take Her on a Date Night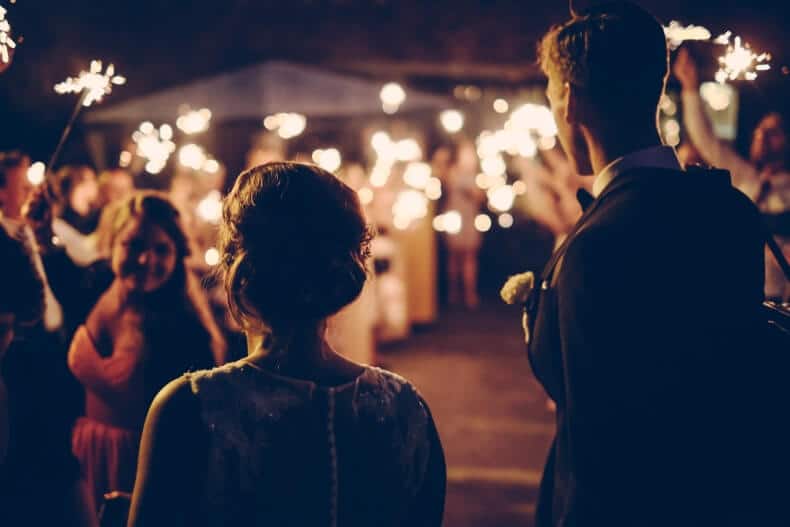 Regular date nights are a must in a long-term relationship. When you have been together for years, and there is so much to do around the house or at work, spending an entire afternoon getting ready just to sit in a restaurant for two hours and overpay for dinner may not be on your priority list.
But what if I tell you that it's exactly what you and your girl need? You can indeed have the same food or drinks at home, but getting out of the house and spending some adult time doesn't require going to fancy eateries and spending big money.
Even a walk on the waterfront or a picnic in the park can bring the focus back on your relationship and allow you to spend time together without any distractions.
It's all about keeping that romance alive. Just remember how you used to be at the beginning, all the butterflies and excitement. Well, you can still have that years later only with a little effort and will!
13# Have a Good Relationship with Her Own Friends and Family
Women are very closely connected with their families and friend groups. Girls tend to confide in their friends or siblings more than men do. They share intimate details and listen to what their loved ones have to say back. In other words, friends' and family's opinions matter!
Her group of people probably has a significant influence on your girl, and that's not something you want to mess up.
You are already a great guy, just show them how much you love and respect your girl, and treat them with respect, even when they are not the greatest people.
14# Surprise Her with a Weekend Getaway
To make your girlfriend happy try this:
"Get ready; we are going out of town tonight! PS. Pack your swimsuit!" – tell me there is a girl who hasn't fantasized about a surprise trip with a charming gentleman?
Well, you can be that guy and make your girl's fantasy come true! Plus, it will bring excitement into your long-term relationship and much-needed time alone.
Depending on your partner's preferences, you can choose to go for a hike in the mountains or take a trip by the sea. Or organize an adventure if you are thrill-seekers. Just don't do anything too far out of your comfort zone because if you aren't enjoying yourself, she won't have a good time either!
15# Remember the Important Dates
This is a must if you want to make your girlfriend happy! It seems like girls love big dates more than men do.
So, if you suck at remembering her birthday or your anniversary and at the same time you are a pro at buying last-minute gifts, it's time to introduce yourself to an app known as the CALENDAR.
Yep, nifty little things people have been using for centuries to remember things they usually don't! Who would have thought?
All jokes aside, every girlfriend appreciates having her birthday remembered. It will make her feel special, loved, appreciated, and thought of.
After all, if you can remember all those sports stats, why wouldn't you remember something so important? Plus, it happens once a year.
16# Show Her You Are Serious About Building a Future Together
One of the best ways to make your girlfriend happy is to show her how serious you are about you as a couple. (As long as you truly are, no one wants false hope and broken dreams.)
You don't have to set dates in stone; just make sure she knows you see her in your future months and years down the line.
It will give your girlfriend a sense of security and belonging. When you plan what your next five years will look like together, it will give her something nice to look forward to and work harder to achieve.
If she is an important part of your life, sit down and talk about what's coming next and what your expectations and hopes are. That's how you build trust, connection, and a stronger bond.
Do not cheat on her! She will always know how to find out if her partner is on a dating site.
17# Make Sure She Knows Her Opinion Matters
Even though it's important for partners to be on the same page regarding important things in life, such as shared values, children, marriage, finances, etc., it's also important to keep your individuality in a relationship.
Having said that, your girlfriend will have her own opinions and beliefs, just like you probably do. The two of you lived and existed before you met each other. That means you have probably been exposed to different influences that formed and shaped you into the people you are today.
In fact, there is a good chance you fell for her exactly because of who she was. Respect involves every aspect of life, including having your own opinions, so if you want to make your girl happy, respect hers.
That doesn't mean you have to agree on all little things. The point of a relationship is not to clone each other but to grow further together as individuals.
18# Apologize When You Are Wrong
It's time to take some responsibility! If you are wrong, you are wrong. The damage is done, and there is not much to do except to give your sincere apology.
You won't be any less of a man if you admit you made a mistake and say you are sorry. Do it even for things that are smilingly small and trivial.
By taking responsibility for your actions and owning your mistakes, you are telling your girlfriend you are a mature man who is willing to step up whenever needed later in life regarding much more important matters.
It will also make her feel heard and understood, which may not result in instant happiness, but eventually will make you look better.
19# Thank Her
Now that you are done apologizing, you should start thanking her! Yes, show your gratitude often and in every given occasion. Your girl deserves it, and you know it; you wouldn't be with her otherwise.
She does so much for you, your relationship, house, family, and the business. They make sure you eat healthily, have clothes to wear, a clean house to come to, and probably a lot more.
On top of it, she takes care of herself and puts a lot of effort into looking great for you.
So, if all these things make you feel loved and appreciated, why wouldn't you return the favor?
Go say "thank you" to your girl and watch her glow from within!
20# Give Her Random Kisses and Hugs
Most girls love romantic gestures like a stolen kiss or a warm hug from behind (men love them too, but they are too macho to admit it!)!
You don't need a reason or a special occasion to express your love. Just give her a quick peck on the cheek while she is working hard at her desk, in the kitchen, or around the house.
Take her in your arms as she is getting ready for the office, and wish her a good day.
Small outbursts of physical affection will make your girlfriend feel happy and desired, even after spending all those years together.
21# Keep Her in the Loop
We all appreciate it when we are active participants in our partners' lives.
From how your day at work went to your deepest secrets and desires – share with your girl everything important (and those things you probably believe aren't).
By staying open and sharing details of your individual life, you show her that she is an integral part of your present and future. This will definitely make your girlfriend happy!
Keeping her in the loop builds trust, strengthens the bond you share, and eventually makes her happy. Win, win, win!
22# Show Your Love in Public
No, this is not a green light on public indecency! But you can still hold your girlfriend's hand, hug her or give her a light kiss on the street as you walk in the park, attend a party, or a family get-together.
It's sweet and romantic and will make your girl feel protected, cherished, and loved. It also gives the impression of how lucky and happy you are to have such an awesome woman by your side.
Don't be afraid to show people how much you love her! She will be beyond happy and grateful.
23# Pamper Her and Make Her Feel Special
No matter how independent or big of a feminist your girlfriend is, she definitely wants to be pampered! Women hate to admit it, but they love having someone who will pamper them in every possible way.
Buy her flowers, get her favorite take-out, play her favorite song on repeat, give her foot rubs and massages when her body aches, buy her surprise gifts, send her lovely and cute texts, and shower her with compliments. I mean, go all the way out whenever you can – women love compliments!
Pampering may be as simple as getting her the bag she's been saving for months.
Gestures like these will put a smile on your girlfriend's face, worth every penny and all the effort! Don't worry; she will find ways to show her gratitude, if you know what I mean.
24# Tell Her You Love Her
They say actions speak louder than words, but words strengthen the relationship through reaffirmation. Plus, they also bring that instant feeling of gratification we all need sometimes compared to actions that take more time.
Telling her that you love her is one of the simplest and easiest ways to make your girlfriend truly happy. "I love you" is the fuel of the relationship. These three words feed the connection and keeps it alive.
It also reinforces the feelings and acts as confirmation of your love. So, don't save on words and shower your girlfriend with love.
25# Learn to Communicate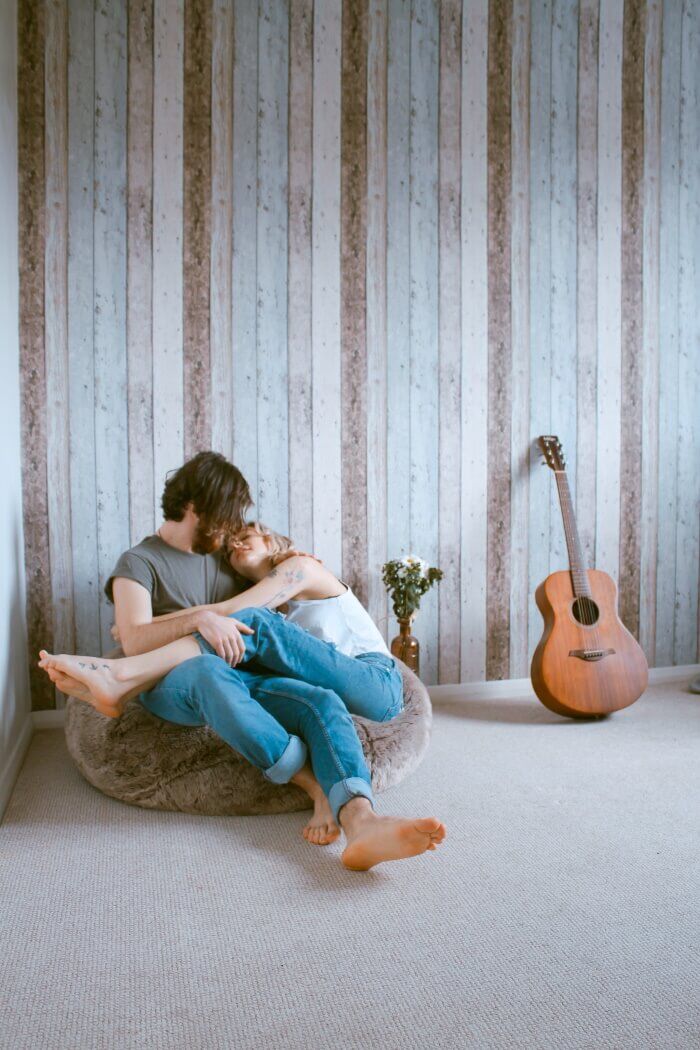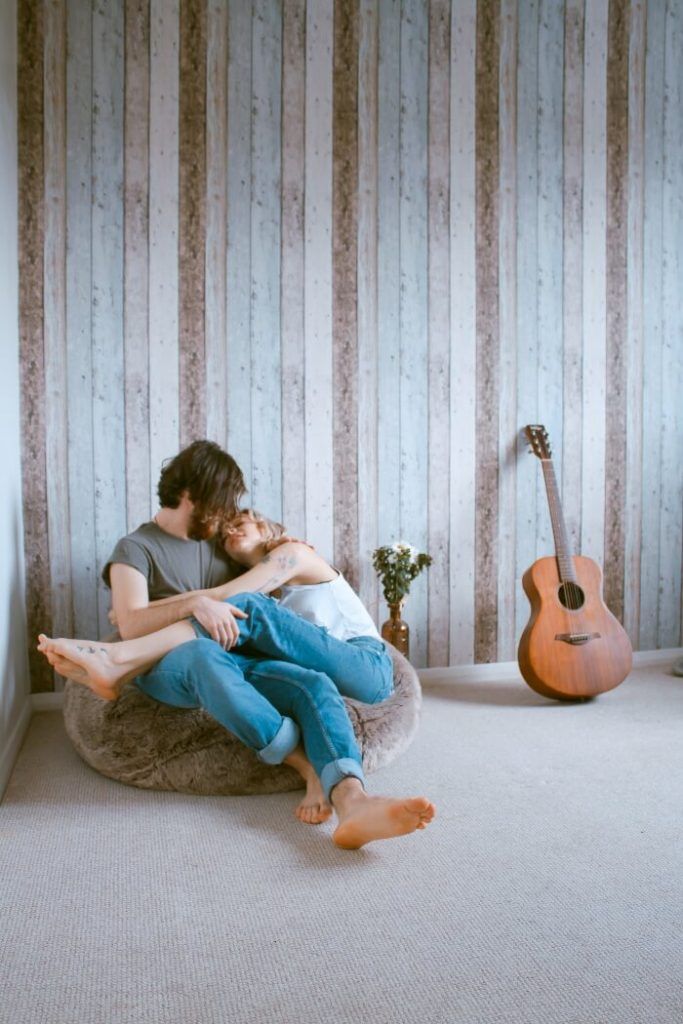 Finally, if one thing is truly important in a healthy relationship, it's communication. Without proper communication, things tend to get too confusing and complicated and eventually push partners further away from each other.
To prevent such things from happening to you and make your girlfriend happy and satisfied at the same time, you will have to start opening up.
This involves patience, understanding, and active listening when she's talking. Often, partners have totally different, if not opposite, ways of looking at things. Perspective is everything when it comes to finding mutual ground, and if you have trouble seeing things from the angle your girl does, you risk escalation of the problem.
Not saying you should cave in and do whatever she says, but try to hear her out. When you understand where she is coming from, you defuse the problem!
Wrapping It Up
"How to keep my girlfriend happy?" is the question that leaves all the guys confused.
While there's no one right answer, there is a wrong one, and that's trying too hard. Instead, focus on making her happy to be with you. Be the man she needs, not the man she thinks she wants.